Manchester Derby Combined XI
Image from 90min
The Manchester Derby is just around the corner and it couldn't be a bigger game for either side so far this season. A win for United should help them get back into their groove and challenge the other sides in the top six places especially since Chelsea, Tottenham and Liverpool will have already played by that point. The top two sides in the league last year have a lot of class between them and both sides fit nicely in a 4-1-2-3 formation and so this is how they will line up in this combined XI:
GOALKEEPER: DAVID DE GEA
This has never been a difficult decision. Ederson is a good goalkeeper, there is no debating that. But David de Gea is the best in the world and saved United 19 points last season with his miraculous saves, most noteably against Liverpool, Arsenal, Crystal Palace and Man City and he was pivotal in the miraculous away win against Juventus on Wednesday.
RIGHT BACK: KYLE WALKER
Walker is an exceptional player and one of the best right backs in the world alongside Dani Carvajal, Joshua Kimmich and Cesar Azpilicueta. Right backs have been an issue for Manchester United this season with Valencia and Young showing how they are not natural right backs. Diogo Dalot showed United fans what he can do against Young Boys and Derby County but is currently injured and so United must make do with Ashley Young who may struggle with the pace of Leroy Sane this weekend. 
CENTRE BACKS: JOHN STONES AND AYMERIC LAPORTE
Honestly, I would love to put Lindelof in this lineup but the fact that United have kept three clean sheets in all competitions this season is preventing the Swedish centre-back from being here. This is also due to the unbelievable form of the Man City defenders who have only conceded four goals in the league this season and whose youthful partnership has frozen out Vincent Kompany and Nicolas Otamendi. It is honestly a shock that Laporte has not made the French squad for the latest set of internationals and Mamadou Sakho has! Perhaps he should consider swapping allegiances to Spain with Pique's retirement, he could be a shoe-in for the side.
LEFT BACK: BENJAMIN MENDY
Again, Luke Shaw would be in the side if the stats didn't favour Mendy. He has five assists in the league which is the joint highest with Ryan Fraser and Raheem Sterling. Mendy has surprisingly made only seven fouls and been booked once, whereas Shaw only has a goal and an assist but has made fifteen fouls and been booked four times – one away from suspension. Mendy's crossing ability is far superior and although Shaw's energy and attacking movement is much higher and faster, Mendy starts in an all-City back four. 
CENTRAL DEFENSIVE MIDFIELDER: FERNANDINHO
Another Man City player who has to be in this squad because in reality, the stats don't lie. Fernandinho makes more passes per game, has an exceptional tackle success of 76% and wins roughly five duels a game. While Matic makes less fouls and more interceptions than the Brazilian, Fernandinho turns defence into attack much more than Matic and will sit back and allow the attacking prowess in front of him do their magic. 
ATTACKING MIDFIELDERS: DAVID SILVA AND PAUL POGBA
With Kevin de Bruyne injured, this became a far easier decision to make. David Silva is a magician and a Man City legend, scoring 51 goals in 258 appearances for the club. He was pivotal for their title winning seasons and especially so last season as when de Bruyne wasn't in form, David Silva was. Pogba has become United's star player since his return and especially last season in which he scored 6 goals and assisted 10 times in United's best season since the retirement of Sir Alex. This year he has five goals in all competitions but three of those have been penalties and another was a rebound from Pickford's save against Everton. He especially in the last few weeks has been pivotal in most of the United attacks. 
RIGHT WINGER: RAHEEM STERLING
Since Pep Guardiola has come in, Sterling's game has improved substantially. He has scored 31 goals and assisted 22 times in 75 league appearances under Guardiola, which means he was directly involved in a goal every 63 minutes. His pace and versatility to play left, right and central makes him an easy starter in this XI and given United's struggle to find a natural right winger, an obvious choice.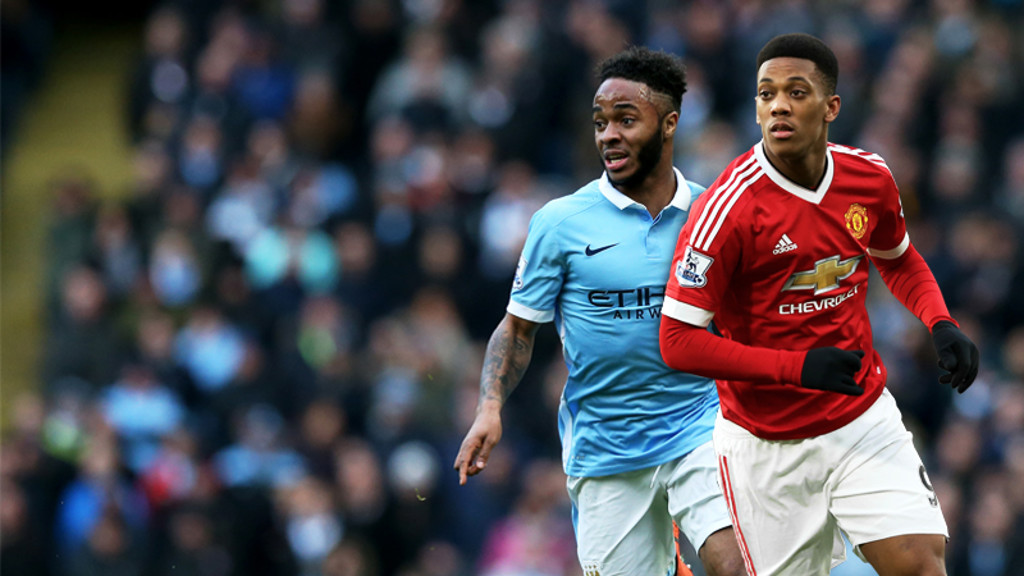 Sterling and Martial both arrived in Manchester in the 2015 summer transfer window and have become vital players for both sides
Image from the Manchester City website
LEFT WINGER: ANTHONY MARTIAL
Who else? Tony Martial has been exceptional for Manchester United in the last few weeks, scoring five goals in his last four league games and will want to score for a fifth league game running against a side he has yet to find the net against. When he takes players on he is a handful and a half and has the composure of a natural striker in front of goal that makes it understandable as to why pundits and journalists have compared him to Thierry Henry. What's more is he has deserved a rare call-up to the France squad, something his form has deserved. 
STRIKER: SERGIO AGUERO
Another Man City hero and an obvious choice given the current situation at United. Lukaku is a doubt for the game but did train today with the other United players after missing the Juventus game on Wednesday. Aguero is a goal machine, scoring 20+ goals in five different seasons and is on track to make it a sixth season and a fifth in a row after scoring 7 goals in 11 league matches so far this season. He averages roughly a goal every 130 minutes in the league which betters that of Luis Suarez, Robin van Persie and Wayne Rooney. He is an excellent player that has adapted to Pep's football and can play through the channels, link up play and even as a target man due to his low centre of gravity and footwork with the ball. 
If you disagree with any of the choices made in the combined XI please comment on the post.
Image from BuildLineup.com