Chelsea vs Manchester United Combined XI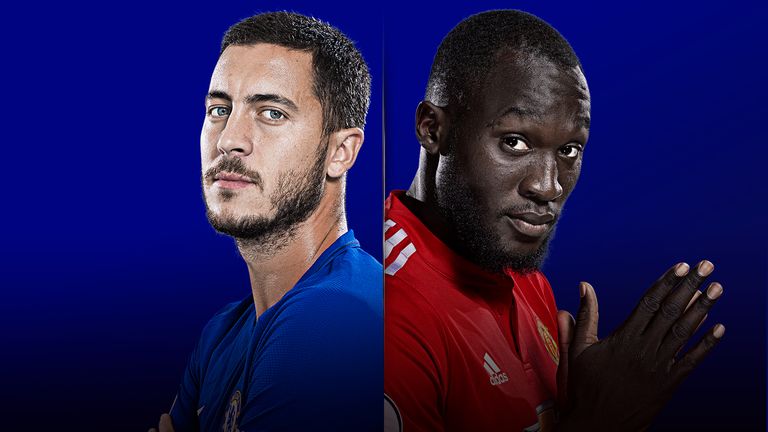 Image from Sky Sports
This is the biggest game of United's season so far as Chelsea aim to continue their unbeaten run in the league and keep up with Manchester City and Liverpool, who are all on equal points, as they plot a home victory against their bitter Red rivals from Manchester. Jose Mourinho has managed both sides, and many of the players still at Stamford Bridge, so knows how good they are and how good his own side are. Both teams have adopted a 4-3-3 formation for the majority of this season and so that is the formation I shall use as it suits both sides very well:
GOALKEEPER: DAVID DE GEA
Now the undisputed best goalkeeper in the world and miles above the level of his Spanish compatriot Kepa Arrizabalaga, who is a very promising goalkeeper and has played very well so far in adapting to the physicality of the league. Nevertheless, De Gea has earned so many points for United and is a guaranteed starter in this combined XI. 
RIGHT BACK: DIOGO DALOT
It was a tough decision between putting Dalot at right back or Azpilicueta and then choosing another centre back, but Dalot gets in this lineup as he should do for Manchester United on Saturday. In the few games he played, he has been excellent with his crossing – something United has truly missed with Valencia's drilled crossing and reducing energy this season. 
CENTRE BACKS: CESAR AZPILICUETA AND DAVID LUIZ
I don't think Smalling, Lindelof or Bailly have done enough so far to warrant a place in this lineup and Azpilicueta has been excellent in every position he has played. Personally, I was desperate for him to sign for United when the rumours started to spread as he can play at left back, right back and centre back to an exceptional degree. David Luiz has been revitalised under Mauricio Sarri and now looks like the player that won the title with Conte two years ago and easily surpasses the levels of United's centre backs at this moment in time. 
LEFT BACK: MARCOS ALONSO
One of the more difficult decisions was to choose between Marcos Alonso and Luke Shaw. My heart said Shaw but my head decided to choose Alonso, who has been excellent for Chelsea and can score goals directly from freekicks. His height also provides a threat as he is a very attacking fullback. Shaw has had an excellent season and has earned himself a new long-term deal. 
CENTRAL DEFENSIVE MIDFIELDER: JORGINHO
The man that controls Chelsea's play. A genuine deep-lying playmaker that reminds me of Michael Carrick in the way he plays, with composure and calmness and the instinct to play forward. Someone United desperately need and a player that fits very well into this lineup. 
Pogba and Kante have constantly been compared since Pogba
re-signed for United and they face each other again on Saturday
Image from GiveMeSport.com
CENTRAL MIDFIELDERS: N'GOLO KANTE AND PAUL POGBA
The two World Cup winners played in both of France's international matches recently and compliment each other very well. Kante allows Pogba to roam and do what he does best, while covering for him with his tireless work ethic and superb recovery abilities.  
LEFT WINGER: EDEN HAZARD
He is simply world class. He may sometimes turn off the gas but he is a superb player and all these links to Real Madrid are truly deserved. He might just be the difference on Saturday as he creates so many opportunities for Chelsea and his position in this side was never in doubt.
RIGHT WINGER: ANTHONY MARTIAL
This was a tough decision. Juan Mata, Willian, Alexis Sanchez and Marcus Rashford all could have been in this position. Mata and Alexis Sanchez were vital for the comeback against Newcastle but Martial was the ever present danger that game and terrorised Yedlin and for all the American's pace, Martial seemed to come out on top for the most part. Willian, although a good player, has not done enough this season to warrant a place. As for Rashford, I genuinely feel sorry for the criticism he's been given as he is a good player but has missed a hat-full of chances this season and Martial is the more clinical of the pair. 
STRIKER: ROMELU LUKAKU
Chelsea's biggest weakness is their lack of a prolific striker as Morata has not shown his potential and Giroud, despite having his uses, will not get you the goals needed to win the title. Paul Scholes has come out and said that United will not win the league with Lukaku upfront. I disagree with this as Lukaku's strength, pace and finishing abilities make him the complete striker and realistically can get 20+ goals in the league, if he has the service he requires – service he has not really been getting so far this season. 
Comment below if you disagree with the chosen lineup and who you would rather have!
Image from Buildlineup.com