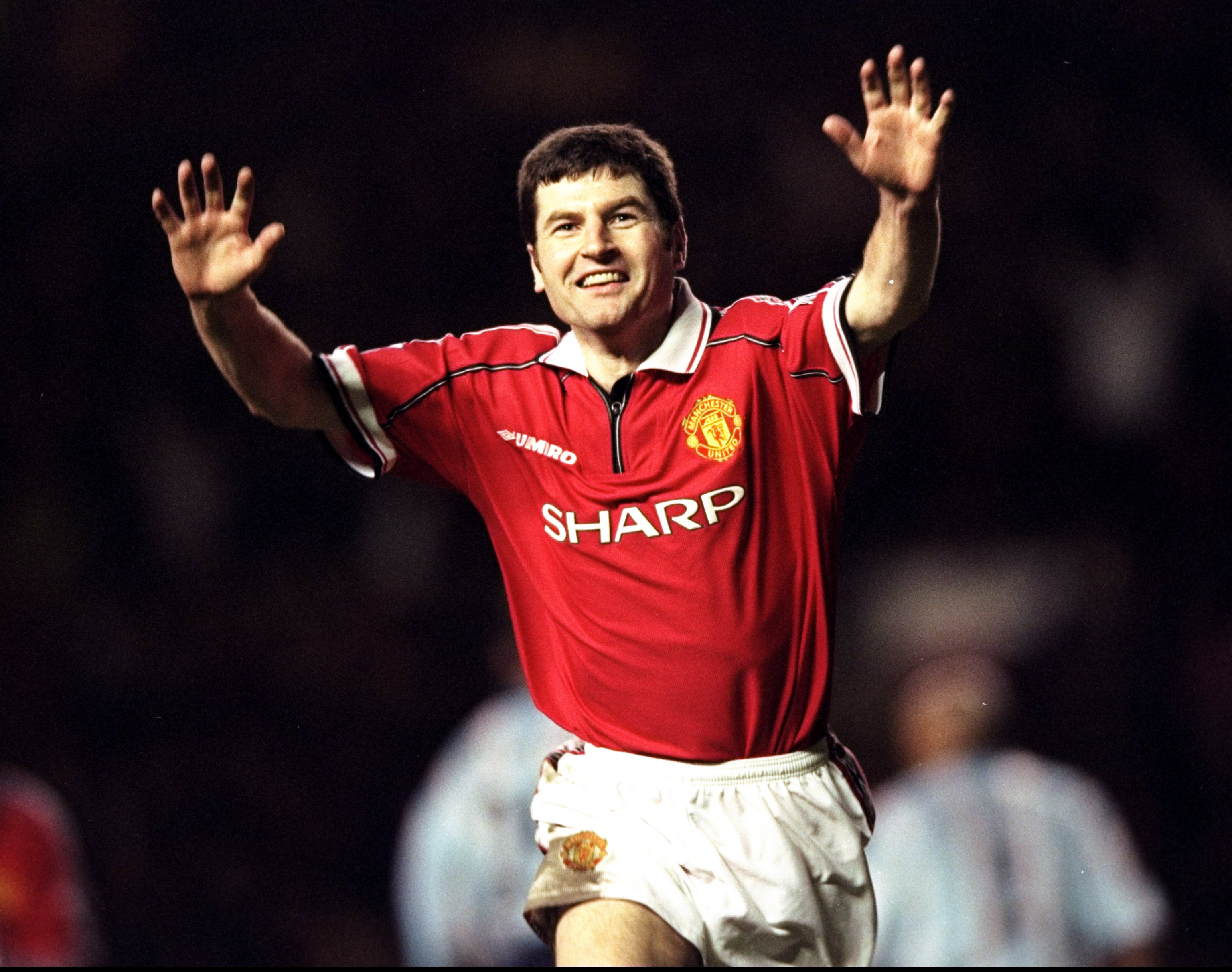 Source: Goal
My earliest memory of Manchester United stems back 35 years when Norman Whiteside's cracking goal sealed a memorable victory against Arsenal in the 1983 FA Cup Semi Final at Villa Park. Television coverage also captured Arthur Albiston kissing the cheek of physio Jim Mcgregor admist jubilant celebrations of players in white shirts and members of United's dugout. A joyous occasion and one which ultimately kick started my emotional connection to our beloved club.
During the 70s and 80s, Albiston's solid and honest performances at left-back made him a perpetual feature on match days. He eventually racked up 485 appearances, 7 goals with 3 FA Cup winners medals to his name. His first came at the expense of our arch rivals in 1977, as he helped United halt Liverpool's treble aspirations. Another impressive display followed a few seasons after, when a last gasp winner by the Scot sunk Liverpool hearts. Whenever I think of the white United away kit of the 1980s, Arthur Albiston springs to mind.

 
During a twelve year period of excellent service and fifteen major honours, Denis Irwin established himself as an essential figure in Manchester United's resurgence of English football. Notably, one of Sir Alex Ferguson's greatest ever signings and arguably the best left-back in Premier League history, the underrated, ever reliable, tough Irishman's laudable efforts were sufficient in him gaining legendary status and being regarded as a firm favourite among the Old Trafford faithful.
Defensively sound, composed and adept with either foot, Irwin possessed great positional sense which made him extremely difficult to beat.The media shy professional also brought into prominence many set piece standout moments and was United's penalty taker before Eric Cantona entertained audiences with his nonchalant techniques. He also smashed in free kicks and I often reminisce about his 1994 spectacular free kick at Anfield, which Martin Tyler described as 'simply stunning'. Irwin loved to bomb forward and formed a left side alliance on the pitch with Ryan Giggs. Whilst solid at the back and purposeful in attack, Irwin knew where the goal was. His magical finish against Tottenham after an audacious flick from Cantona will live long in the memory bank of Manchester United fans everywhere. Goose bumps as I write this.
Plying his trade at right-back in his first season, Irwin bolstered United's back line, which proved fruitful as they went on to claim the 1991 European Cup Winners Cup with victory at the hands of Johan Cruyff's Barcelona. The £625,000 man predominantly featured as Manchester United's left-back throughout his time at the club, adding further stability to the Bruce and Pallister partnership. 
Denis Irwin established himself further by collecting the Premier League title with United in 1993, followed by League and FA Cup successes the following season. He was a linchpin figure during the 1996 Double Double with Fergie's Fledglings, and the cornerstone of Manchester United's phenomenal 1999 Treble winning season. There were more trophies on the horizon as Denis Irwin went on to become one of English football's most decorated footballers ever. Such was his knack for the game, the Irishman never seemed to appear perturbed during matches for club or country.
Sir Alex Ferguson previously commented on the 'impossible' task of picking an all-time Manchester United XI. His only exception being the lad from Cork and without dithering Sir Alex said, "Honestly, I would say Denis Irwin would be the one certainty to get in the team. I called him an eight out of 10". With this in mind, it's no wonder that Sir Alex Ferguson immediately dismissed Leeds United's interests for the capture of Irwin's signature. After 529 appearances, 33 goals and fifteen trophies such as seven premier league titles, three FA Cups and a historic 1999 European Cup, Denis Irwin finally brought the curtain down on a remarkably successful career for the Red Devils.
In the wake of Irwin's departure, other players who came into the fold performed superbly too and under the watchful eye of Sir Alex Ferguson the likes of Phil Neville, Mikael Silvestre and Gabriel Heinze all committed themselves to the challenge of striving for success at United. But this simply wasn't enough for the fearsome Scot as his quest for trophies and recruitment of exceptional personnel continued during the mid-millennium rebuild.

 

His criteria for a first choice left-back involved an eye catching player with leadership qualities, character, personality and who wasn't daunted by the responsibility of turning in consistent sterling performances whilst representing Manchester United at the highest level.
Manchester United has been home to some of the most influential and gifted players ever to sport the red jersey during a period of unrivalled dominance in English football. However, it would be fair to say that Denis Irwin was the club's most consistent player. Sir Alex Ferguson once said, "At Highbury in one game, he had a bad back pass in the last minute and [Dennis Bergkamp] came in and scored. After the game the press said: 'You must be disappointed in that pass back.' I said: 'Well, one mistake in 10 years isn't bad.' He was an unbelievable player." That says it all.
In the modern game, Denis Irwin's consistency, reliability and superior footballing attributes have become a dying breed.