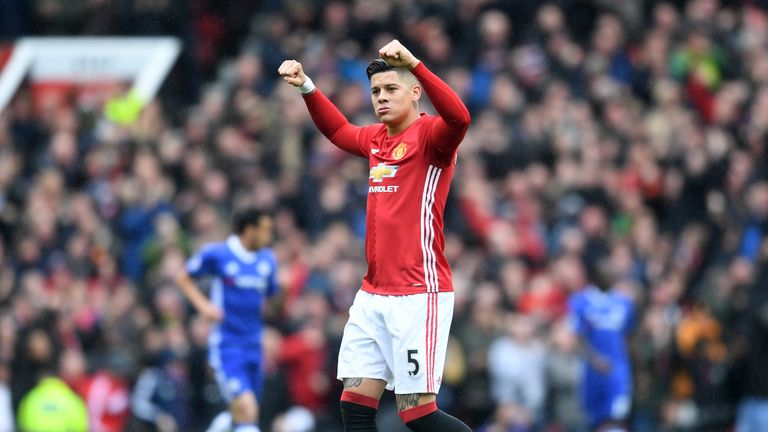 Image from Sky Sports
Is 2018/19 Going To Be Marcos Rojo's Time To Shine At Manchester United?
Marcos Rojo is one of the most popular men in Argentina right now. Jorge Sampaoli's men were on the verge of suffering an embarrassing group stage exit at the hands of Nigeria but up stepped Rojo to save the day. The Manchester United defender timed his run into the penalty box impeccably before showing superb technique to finish on the volley with his weaker foot. That goal will live long in the memory for Argentina fans…
United supporters won't be forgetting it quickly either and Rojo could be set for a huge year at Old Trafford. Red Devils manager Jose Mourinho will be keeping a close eye on the World Cup 2018 and Rojo has been one of Argentina's most impressive players. When fully fit, he is arguably United's best central defender and fans have their fingers crossed for an injury-free campaign.
Expecting Rojo to score those kind of goals for United would be foolish; this was a once-in-a-career kind of strike. However, supporters are well within their rights to hope for consistent defending from Rojo in 2018/19. There are still question marks over Phil Jones and Chris Smalling as a long-term partnership and supporters are still angry with the former for his needless challenge in the FA Cup final.
Should Mourinho give Rojo the opportunity, the Argentine must grasp it with two hands. He could be heading back to Manchester after a successful summer if everything goes to plan – Argentina are 12/1 in World Cup betting odds with bet365. Rojo is a fan favourite at United and his standing with the Red Devils faithful is only going to improve if he continues to shine on the big stage.
Versatility, heart and desire are three of Rojo's greatest traits – he is a fantastic talent. The Argentina star is capable of playing as a central defender or on the left; and he fits a 3-5-2 system or a more traditional 4-4-2. Nobody would ever question Rojo's determination and hunger to succeed, the former Sporting Lisbon man will be hoping to help United get back to the summit for the remainder of his professional career.
— Manchester United (@ManUtd) June 26, 2018
Being completely honest, Rojo is not the man to lead United to Premier League glory on his own – it has to be a team effort. The Red Devils are greater than the sum of their parts and it wouldn't be a huge surprise to see Mourinho's men push Manchester City close in 2018/19. Rojo can be part of that effort; it would take a brave man to write him off after his efforts this summer.
Marcos Rojo is now 28 years old and he isn't getting any younger. Mourinho should turn to the Argentina man as United bid to close the gap to Manchester City. A first Premier League title since 2013 isn't too far away but the Red Devils need consistency in defence. Rojo can be the leader that United are craving; he has been inspirational for Argentina this summer and he can take that confidence into the upcoming campaign.