Spain vs Portugal Preview
Image from Spooky Express

The biggest game of the World Cup so far. European champions Portugal will face a strong Spain squad which will look to improve from poor tournaments of late and return to the success of Spain's golden years from 2008-2012. Both teams have strong squads and are likely to go all out in attacking to show their mettle. Spain will probably have most of the possession with impressive midfielders such as Iniesta, David Silva and Sergio Busquets whilst Portugal will defend deep and counter with the pace of Gelson Martins, Bernardo Silva and their captain, Cristiano Ronaldo. 




Portugal:

Goalkeeper: Rui Patricio

The Sporting Lisbon goalkeeper would make his 70th cap for Portugal should he start against Spain. He hade crucia saves in the Euros final against France to keep the score at 0-0 until Eder's late winner. The 30 year-old is likely to play his last World Cup for Portugal and has been linked with moves away from the capital with Liverpool, Chelsea and Real Madrid all interested. 




Defenders: Cedric Souares, Jose Fonté, Pepe,

Rapha

ël Guerreiro

The defenders that faced France in the final and the back four that was incredibly solid for the knockout rounds in which they conceded only one goal in four games. Cedric, whilst having a shockingly poor season for Southampton has been consistent for Portugal for the last couple of years and should be courted by some bigger teams in the summer. Despite the aging centre backs in Fonté and Pepe, they are still solid at the back and have played four and three matches respectively out of the five games Portugal have played in 2018. Whilst their age may be an issue they are still a solid defence and have the ability to keep out the best of attacking player




Midfield three: William Carvalho, Joao Mario, Bruno Fernandes

A strong defensive midfielder in Carvalho and two attacking midfielders in Joao Mario and Bruno Fernandes allows the perfect arrangement for defending the Spanish onslaught and countering with pace and fast passing. Joao Mario has been a hit since moving to the London Stadium on loan and Bruno Fernandes has also has a successful season at Sporting scoring 16 goals in all competitions and asked for his contract to be terminated as to move away with both AC Milan and Roma both interested in the 23 year-old.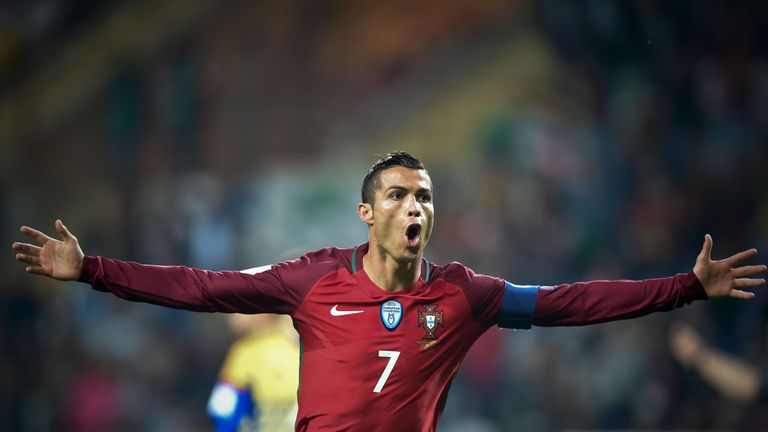 Image from Sky Sports
Forward Three: Cristiano Ronaldo, Gelson Martins, Bernardo Silva:Premier League winner Bernardo Silva is a mercurial talent and has been importnat for Man City as well as Monaco in their shocking title win in the 2016-17 season. Gelson Martins is a pace machine and has been very prolific this season scoring 13 goals in all competitions and has also been released by Lisbon so as to allow him to leave with both Arsenal and Tottenham looking to sign the winger. And of course Cristiano Ronaldo has the talent to get Portugal through and will be their main man up front. 

Spain:
Goalkeeper: David de Gea
Debatedly the world's best goalkeeper and certainly a game to prove it against the attacking prowess of Portugal. He has stunning reflexes, calm composure with the ball and is a brilliant sweeper keeper. 

Image from Zimbio
Defenders: Dani Carvajal, Sergio Ramos, Gerard Pique, Jordi Alba
One of the strongest defences on paper but has a mistake in them which has been seen against Croatia and Italy at the Euros. The Madrid squad had an excellent Champions League campaign and the Barcelona players had an equally impressive La Liga season. There are 327 caps between the four of them and their experience should help them progress. 

Midfield Three: Sergio Busquets, Thiago, Iniesta
Three passing maestros who can open up a defence from deep and Thiago and Iniesta able to weave through defences and get into scoring positions. Busquets is likely to 'hold the fort' while the other midfielders advance further up the pitch. They could be man marked by Carvalho so as to prevent their full abilities from being unleashed and causing havoc in the midfield.

Forward Three: David Silva, Isco, Diego Costa
The wingers are more like two number 10 playmakers who drift about the attacking third and ghost past defences with their skill and world class movement off the ball. Costa is the opposite, a bullish striker who uses his strength and nasty nature to push past weak defenders and create chances for himself. He is also a target man who makes goals out of any situation and is a fantastic striker who should never have been sold by Chelsea which the London club has paid for dearly. 

PREDICTED RESULT:
I hope this will be an interesting game full of chances and goals. Both teams will hope to make an impact in this tournament straight from the first game. It could be a 1-0 game but it could easily end 3-3. Portugal are a more defensive team and Spain seem to have trouble breaking down defensive teams such as Israel in 2017 and Tunisia more recently. 

Predicted score: 3-2 to Spain