Iran vs Spain Match Analysis and Player Ratings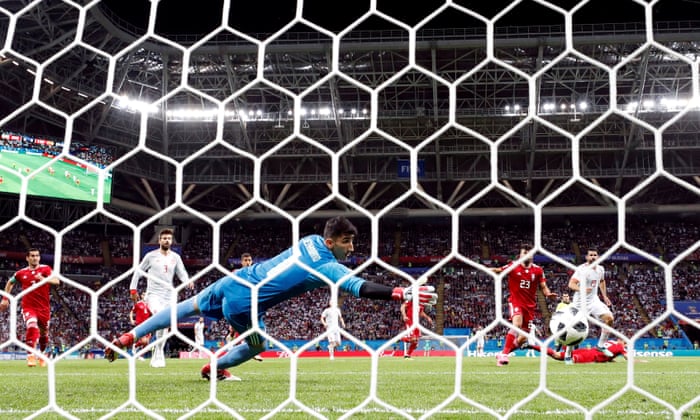 Image from the Guardian
Well it wasn't pretty but Spain have finally got their big win at the World Cup which takes them joint second with Portugal after Costa's lucky winner but at Iran's expense who should be disappointed with the defeat after such a shift the whole squad put in to the performance. Spain must now beat Morocco to guarantee qualification but will need to improve in their clinical attacking play. Spain made two changes to the side that drew to Portugal so disappointingly, with Carvajal and Vasquez coming in for Nacho and Koke, with Vasquez playing alongside Isco in a wide position and David Silva dropping deeper.
For the majority of the first half an hour, Spain dominated the play without really hurting Iran with any clinical attacking prowess. In fact the most interesting part of watching the early stages of the game was finding out that Gareth Southgate dislocated his shoulder whilst running 10k. David Silva had the best chances with a freekick that deflected straight at Beiranvand and from a corner that was brilliantly earned from some magnificent passing by Isco, the Man City midfielder hooked the ball just wide. Five minutes before the end of the first half, some excitement! Costa confronts Beiranvand after clipping the 'keeper's leg. A poor first half performance from Spain but Iran have defended valiantly and will need to keep their strength and stamina up if they are to get anything from the match. 
Spain looked rusty in the first half but came out all guns blazing in the second half as they should have made more out of their three chances they created in the first five minutes. Pique narrowly missed a chance, followed by Beiranvand making a good save to deny Sergio Busquets and held onto the ball to prevent Vasquez from scoring on the follow up and Isco should have hit the target with his effort despite being under pressure. Iran could have easily taken the lead after an thunderbolt of an effort from Karim who gave de Gea no chance but the ball skimmed the side netting. Easily could have created a shock win, but it was not to be as not a minute after, Costa almost ridiculously gave Spain the lead after Ramin's tackle deflected off Costa and into the goal. He won't care one bit as he scored his third tournament goal and is now the joint second top goalscorer with Russia's Denis Cheryshev only behind Ronaldo himself. Iran had another two chances to score and had the ball in the back of the net, the first coming from a Medhi header which only narrowly missed but the second, VAR had to intervene as the goal was originally given and Iran celebrated like crazy as Ezatolahi blasted the ball past de Gea but VAR correctly deemed Iran's no.6 to be offside. Another last gasp defensive performance from Iran as both Pique and Costa were prevented from scoring from two Iranians blocking the ball on the line as well as the 'keeper intervening. Iran still had another chance to equalise late on but Medhi headed wide and genuinely should have scored but somehow missed the target. Iran kept pressing and put in some good crossed but they were quickly dealt with de Gea, which will do him the world of good after being in the press for all the wrong reasons against Portugal. It didn't take long after the break for Spain to score despite the luck of the way the ball went in. 
De Gea (7) – Nothing to do but what he did he did well. Came off his line well to deal with crosses but overall unchallenged. 
Dani Carvajal (6) – Average. Nacho deserved to start. 
Sergio Ramos (5) – Similar performance as the one against Portugal as he often marked poorly and showed his lack of pace at times, could be torn apart by Morocco's wingers. 
Gerard Pique (5) – Same as Sergio Ramos – poor. 
Jordi Alba (5) – Offered nothing in attack and caught out in defence, not looking like the same man that tore up La Liga this season. 
Sergio Busquets (6.5) – Created attacks and hit a good shot that forced a good save from Beiranvand. 
Andres Iniesta (7) – Looked classy at points but got tired quickly.
David Silva (7) – Had a lot of chances to score and created a lot too but came to nothing. 
Isco (7.5) – Best Spanish player by far, looked lively and energetic and needs to score to build his confidence.
Lucas Vasquez (4) – Honestly, I have no idea why he is even in the squad, there were so many better players that could have gone to the World Cup – Inaki Williams, Pedro, Sami Castillejo or Jose Callejon would have been far better choices. Vasquez did nothing at all. Nothing.
Diego Costa (7) – Decent but not clinical. Very lucky with the goal but will keep his position in the starting XI.
SUBS: 
Koke (n/a)
Marco Asensio (n/a)
Rodrigo Moreno (n/a)
None of these players did anything to affect the game. Spain need to find some good impact players to come off the bench. 
MAN OF THE MATCH: ISCO