Iceland performing their iconic thunderclap chant in front of their fans. (Image from The Indian Express)
Wow. What a game. Last time's World Cup finalists held by an immense unit of an Iceland team, to a 1-1 draw. Definitely not what I or many others would have predicted, but it's well documented that Iceland have the grit, resilience and togetherness to produce shock results against the big giants.
Sampaoli brought his boys out in a 4-2-3-1 formation. Caballero in goal. The backline from left to right was Tagliafico, Rojo, Otamendi and Salvio. Standard. The two sitting midfielders were Mascherano and Biglia, providing that solidarity and experience to allow the attackers to be free. Meza, Messi and Di Maria pose as the three attacking midfielders, with Agüero playing as striker.
Iceland, the World Cup debutants with a population similar to that of Stoke-on-Trent, lined up as a 4-4-1-1. Halldorson provided experience in goal, backed up by his defence of Magnussen, R Sigurdsson, Arnason and Saevarsson. Heading the midfield were Bjarnason, Halfredsson, Gunnarsson and Gudmundsson. Gylfi Sigurdsson was in at centre attacking mid, with Finnbogason playing as an out and out striker.
It was Iceland that actually started on the front foot. They rode a couple of Argentine chances well, and with a high press and committed players, Argentina were forced into an early error. A sloppy backpass by Rojo to Caballero caused a rushed clearance, which only reached Gunnarsson. A ricocheted shot by a teammate found Bjarnasson deep in the penalty area, but he could only steer his shot wide of the left post. The breakthrough came in the 19th minute, Agüero was found in the box with a pacy cutting pass in from Rojo. The touch from the little man was sublime, and the shot even more so, a thunderbolt into the top right corner of the Icelandic goal while turning away from Ragnar Sigurdsson. It wasn't long before the response from the Scandinavians, though, as in the 23rd minute, some good build up play from G. Sigurdsson and co. up top led to a cross-shot from Magnussen returning to the former. The shot from Sigurdsson was parried by Caballero and smartly pounced on by Alfred Finnbogason. An historic goal for Iceland. The game remained end to end for the rest of the first half, with chances and good plays at either end.
The second half produced more of the same; lively, lively football. Argentina were awarded a penalty in the 64th minute after Meza was bundled over by Magnussen in the area. Lionel Messi stood over the spot kick, ready to slot home, but a fine save by Halldorsson to his right denied the little magician, making this his 24th career penalty miss. Argentina pushed and pushed, with chances coming and Higuain and Pavon coming on, but Iceland invited the pressure and held on superbly to see out the remaining 30 minutes, and produce yet another historic major tournament result. Argentina maybe should've had a penalty, with Pavon going down after a challenge from Saervasson late on in the game, but that's neither here nor there and we can't take anything away from the quality of the Icelandic performance.
If you're one for Match Facts, Argentina dominated the game left, right and centre. They had 78% of the possession, 27 shots to eight, seven shots on target to two and ten corners to two. I guess they were a touch unlucky in the way in which they drew, but really it should be Iceland celebrating the tremendous efforts of the entire team and how they've secured a great result.
ARGENTINA PLAYER RATINGS:
Willy Caballero (5) A mediocre performance from the Argentine keeper there, making a few routine saves and catches throughout the game. However, a player of his age should be comfortably parrying the ball much better and away from the poachers in the box.
Nicolas Tagliafico (6) Can't say too much about this player, wasn't really in the game. He had a standard left back's game and didn't play bad that's for sure.
Marcos Rojo (5.5) Looked shaky at times but generally played ok. His passing was off and did lead to that early goal scare. Didn't have too much to do in the game, and he was the provider of the Agüero goal to be fair to the lad.
Nicolas Otamendi (6) Again, didn't see much of him but he didn't look to troubled at all. An average day at the office for the centre half.
Eduardo Salvio (6.5) For me, Salvio had the more memorable game, out of the back four. He made good runs forward and his intent was to pass and provide a threat.
Javier Mascherano (6) Another ghosty player, can't remember much impact that this guy had in the game. He seemed to do the job alongside Biglia and then Banega well, though, for the whole 90 minutes.
Lucas Biglia (5.5) This is becoming a recurring theme here, and I'm getting bored! Bog standard and bang on average. Couldn't pick out any real highlights of his I'm afraid.
Maximiliano Meza (6.5) Did alright over the course of the game, made some good runs in and looked to get Messi and co. in behind the defence. Did well to win his side the penalty, though it amounted to nothing.
Lionel Messi (7.5) Though he tragically missed the penalty and his team rely on him so much, he still played pretty well in the other aspects of the game. He picked up the ball regularly from deep within his midfield, started attacks, peppered the box with free kicks and had a few shots thatched Hallfordsson on edge. But I feel the world of football is going to slate the man for his miss and his team's loss, coupled with his rival Ronaldo's hat trick, Messi needs to step up to satisfy the critics who'll be hot on his tail.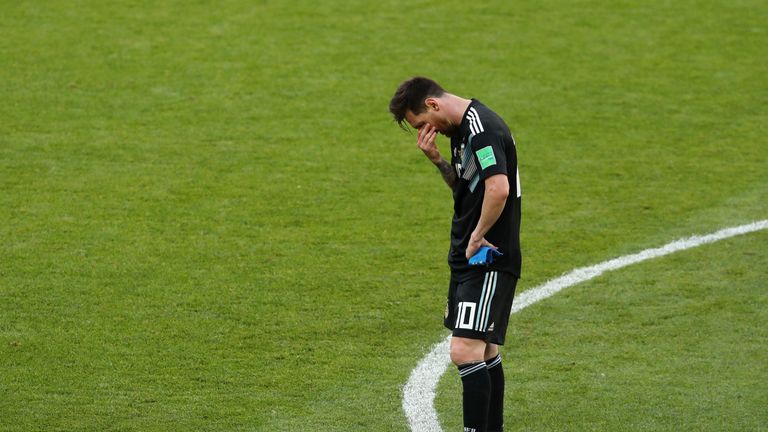 Lionel Messi, distraught having fluffed his lines. He's taken responsibility for the team's draw. (Image from Sky Sports)
Angel Di Maria (6) Not at his usual silky best unfortunately. Couldn't use his pace and vision to be the creative spark that Argentina needed, and so was dormant for long parts of the game.
Sergio Agüero (7) He scored a fantastic goal and did look threatening alone as a striker, but was very quiet, too quiet for my liking, for someone of his calibre.
SUBSTITUTES:
Cristian Pavon (7) Came on for Di Maria with 15 minutes to go and looked lively as soon as he'd entered the pitch. Had a penalty that should've gone his way too.
Ever Banega (6) Garden variety, like for like switch. Standard player for the last 30+ minutes.
Gonzalo Higuain (n/a) Only had six minutes left and had left real impression in the game. No comments.
ICELAND PLAYER RATINGS:
Hannes Thor Halldorsson (8.5) A magnificent display from the keeper, who was also a part time film director. Madness. Produced a very decent save to deny Messi and kept out 5 other shots on target. He dealt with corners and set plays very well too, with the help of his defenders.
Birkir Mar Saevarsson (7) He dug deep, chased down players and made some good tackles. He could've easily given away a penalty late in the game, but he didn't so I'm sure he won't mind.
Kari Arnason (7.5) Both the centre halves were great, helping each other out. Closing down the ball and staying as a tight and compact defensive unit.
Ragnar Sigurdsson (7.5) Did well to keep Agüero and Messi quiet for the most part of the game, and stuck to the gameplan to invite the pressure and give Argentina possession, so they could sit in deep and defend.
Hordur Magnusson (7) The left back traversed the flank pretty well and looked intent with his deliveries and passing. He was instrumental in the build up to Iceland's goal.
Johann Berg Gudmundsson (7.5) Linked up well with G. Sigurdsson and knocked the ball around efficiently across the pitch.
Aron Gunnarsson (8) A true captain's innings here. Rode the challenges and pressure from the Argentines exceptionally, led the team from the back and strung a few good passes along the way too. Came off with a knock in the 76th minute, though.
Emil Halfredsson (6) Couldn't see him doing much in the game, but he played well enough, given the entire team's performance.
Birkir Bjarnason (7.5) Looked like he was going to score at various points in the game. Should have  tucked his chance away into the bottom corner early on.
Gylfi Sigurdsson (8) Top draw from the Everton and former Spurs playmaker. He orchestrated the moves and plays of Iceland, was creative and dynamic, and it was from his shot that Finnbogason scored. He even had a shot of his own saved. Very good stuff.
Alfred Finnbogason (8) Right place, right time. A proper centre forward's goal, and to make it Iceland's first World Cup goal, in a drawing cause against the mighty Argentina is just something else.
SUBSTITUTES:
Ari Freyr Skulason (6) Replaced Gunnarsson in the 76th minute and kept things under control for the last quarter of an hour.
Rurik Gislason (6) He did alright did this winger in the last half hour, coming on for Berg Gudmundson.
Bjorn Bergmann Sigurdason (n/a) When you come on in the 89th minute as a direct swap for the striker, there's nothing really you can do to impact this game.
MAN OF THE MATCH: Hannes Thor Halldorsson.