David De Gea – 8
If it wasn't for the greatest goalkeeper in the world, we would have certainly lost this game. He made some brilliant saves to keep us in the game. His two most notable saves were shots from Shane Long and Oriol Romeu.
Ashley Young – 7
Like in the game against Burnley, he proved to be a threat down that right-hand side. There is no doubt that he is much more of a threat in right back than left. He pushed forward at every opportunity he got.
Victor Lindelof – 6
He done well to handle Shane Long most of the time but did look shaky at times.
Phil Jones – 7
I am not quite sure what has happened to Jones this season, he has been our best CB. Another splendid display from the Englishman. If he keeps this up, there is no doubt that he will be the first player on Southgate's team-sheet in Russia.
Luke Shaw – 7
He looked adventurous going forwards and put in another good performance which, I'm sure, is making Jose Mourinho reconsider selling him.
Nemanja Matic – 5
This is the first game in which Matic has really annoyed me. He wasted several attacks with long shots which ended up in row Z. He was also allowing Southampton players to get past him far too easily and got booked. Probably the Serbian's worst performance in a Manchester United shirt.
Paul Pogba – 6
He has been getting abuse all over social media and I am not sure why. He was playing some delightful passes. Although he was nowhere near as influential as usual, he still put in an okay performance. As for the goal, I honestly can't blame him for that. From his perspective, he wasn't sure if it was going in and so instinctively got a touch to it.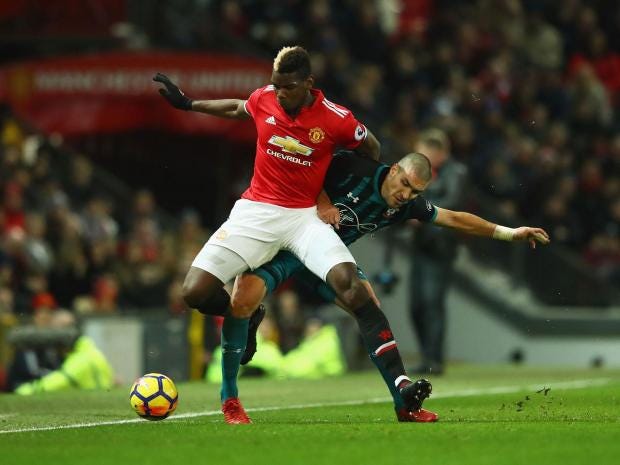 Juan Mata – 6
We should have gone ahead early on when Mata played in a delightful ball to Lukaku, who mistimed his header. Otherwise, Mata looked reliable in possession but done nothing else of note.
Jesse Lingard – 6
His delightful footwork inside the box should have earned us a penalty if not for some poor refereeing. For the rest of the game he looked average at best and should have scored but headed just wide of the post.
Henikh Mkhitaryan – 2
This was his chance to prove to the manager that he deserves to stay at the football club, but he done the opposite. His low confidence was abundantly clear, and the Armenian was by far the worst player on the pitch. He was constantly losing possession and overhitting his crosses. Probably Mkhi's last performance (if you can call it that) in a Manchester United shirt. 
Romelu Lukaku – N/A
He missed a great chance early on to put us 1-0 up. Unfortunately, he suffered a head injury and was substituted in the 14th minute. Leaving the pitch on a stretcher and with an oxygen mask, he left all United fans fearing the worst. However, he apparently didn't go to hospital and was treated at Old Trafford. Mourinho confirmed that he will be out for a while and we wish him a speedy recovery!

Subs
Marcus Rashford – 5
Another shocking performance from our young talent. For such a fast player, he looks so slow and lacklustre on the ball. This too looks like it's a confidence issue and hopefully he can pick himself up in the coming days. We really need him to perform now that we are without Zlatan (for one month) and Lukaku.
Anthony Martial – 6
As soon as he came on, he was driving forward with intent and won us a freekick. That is the Martial I want to see more of! Unfortunately, he was unable to influence the game, but I did like seeing him drive at Southampton's defence. He deserves to start against Everton.