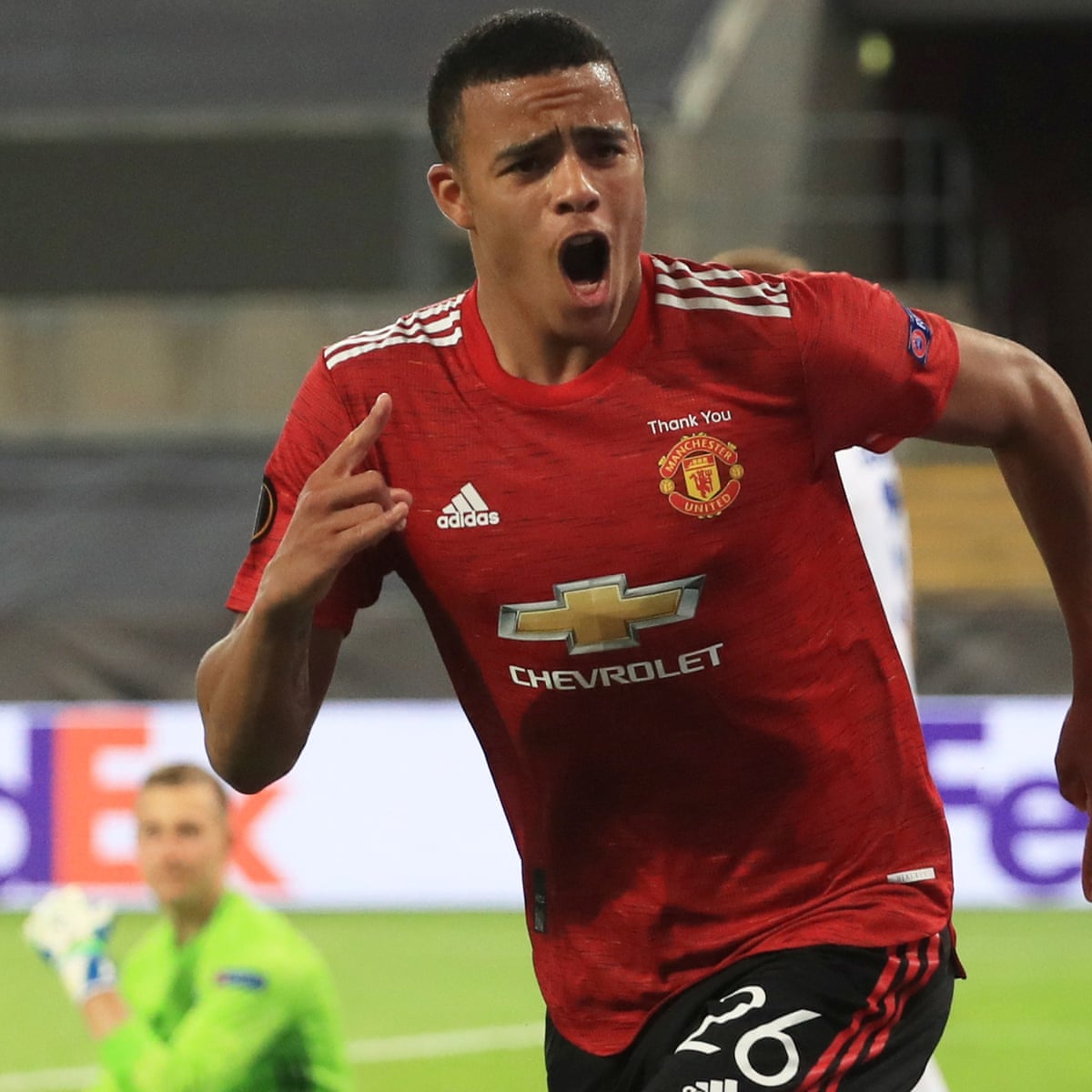 What a dream season for Mason Greenwood as he forced himself into the starting XI this season
Image from The Guardian
Key Details:
Name: Mason Greenwood
Date of Birth (Age): 1st October 2001 (18)
Signed: 18th October 2019
Appearances: 53
Appearances this season: 51
Goals: 17
Assists: 5
Shots per goal: 3.9
Point winning goals: 8
Contract Expiry: 30th June 2023
Analysis:
There were many calls at the end of last season to see Mason Greenwood in the side after his meteoric rise through the ranks of the United Academy and while he only made two appearances, they showed promise while no actual results and so it would be a big pre-season for Mason Greenwood. He impressed substantially as he scored the openers against Leeds United and Inter Milan in what was a promising and positive pre-season overall. He made his first appearance as a substitute against Chelsea and started his first game against Astana in the first group stage game of the Europa League and won the game with his first ever goal for Manchester United and became the youngest European goalscorer in United's history aged 17 (and 353 days). While he scored three goals in the Europa League and Carabao Cup, it took till the 24th of November for Greenwood to mark off his first Premier League goal as he equalised against Sheffield United as United drew 3-3 at Bramall Lane. While his goal tally was very good all season, pre-lockdown, Mason Greenwood only started four games in the League as Daniel James was the preferred right winger and Martial was of course the starting number 9 but nonetheless in those four starts he scored twice against Newcastle and Watford. After the Spurs match, he forced James out of the side and started every single remaining league game of the campaign and scored five times in eight starts, of which three opened the scoring for United and the other two making a two goal margin against Bournemouth and Villa respectively as he doubled his league tally to ten goals. Greenwood finished the season with 17 goals and 5 assists and levelled the record for the most number of goals by a teenager in a United shirt which is tied with Wayne Rooney, George Best and Brian Kidd but has another year to break this record and I don't doubt he will. 
He has remained an important player all season for Manchester United as he makes an impact when starting or coming on from the bench as either a striker or wide player. He has scored crucial goals and has been clinical as he has a better shot/goal ratio than not only both Martial and Rashford but the likes of Mane, Salah, Aguero, Aubameyang and Kane. A fantastic tally of goals, a crucial impact to the team and I don't doubt that he will flourish again next season and for many to come. 
Overall Season Tally: 10/10
Ambitions for Next Season:
All he has to do is stay fit and keep doing what he's doing. He has had a great season and been a crucial player for United. He says he can compete with any player and I don't doubt he would offer great competition to Jadon Sancho should the Dortmund winger join. I can see him coming off the bench or being in rotation when the fixture list is tricky and making an impact if Sancho is signed and if he isn't then Greenwood can be an excellent starting player with another signing being the sub winger. It really depends on United's business as if they do sign a right winger, Greenwood will be the better for it and if they don't he will be too heavily relied upon and that can cause issues with young players.