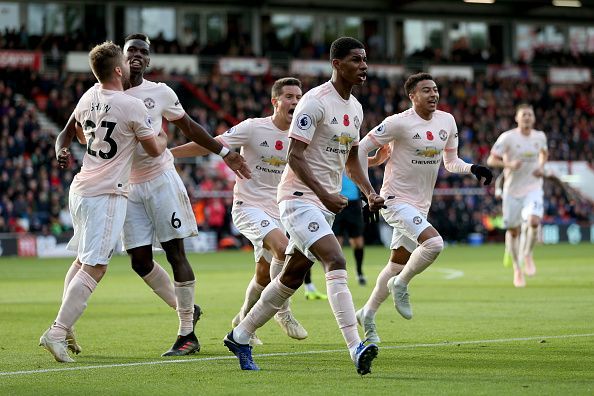 This game was just a continuation of the same old story where United come from behind to win a game. This is becoming the norm for Manchester United. Well ladies and gentlemen, this was our first back to back win in the premier league this season. (A round of applause)
Like many of the Manchester United fans out there, I am frustrated at our failure to keep clean sheets this season. David De Gea has been an anchor to keep out balls but his defence keeps frustrating.
From yesterday's game, our defence is a major concern given that we have 2 important games before the international break. The defending in the first half was awful. We were lucky not to concede more than 1 goal at half time.
Apart from Fred and De Gea, no one was trying for Manchester United in the first half. The lack of urgency was frustrating as Bournemouth were the better team in the first half. They completely dominated us but thanks to De Gea, we managed to concede only one goal.
In the end, in order to change the game, Jose had to sacrifice Fred so that Herrera would help free up Paul Pogba, who went on to become instrumental in the second half.
Like in most cases, our second half performance was great and Bournemouth were lucky not to concede more goals. We missed one on one chances with Shaw, Lingard and Rashford. Finally, we had a breakthrough in stoppage time with a goal from Rashford, who celebrated his birthday a few days ago.
So what next?
The major concern Jose and the coaching staff have before the trip to Turin to face Juventus is our defence. Bailly, who was one of our best center backs last season, has really been awful with the few games he has played this season. I hope he can stand up to the occasion. I want to see Bailly and Lindelof pairing against Juventus. I also wouldn't mind seeing Rojo back in the team.
Ander Herrera changed the game for Manchester United in the second half against Bournemouth. It was great to see him back in action. There is a huge week ahead with Juventus and Manchester City up next and I hope he will be utilised.
We need to start Alexis up front indefinitely. He looked much better against Bournemouth. The goals will come, but overall it was a very positive performance. Much better. And as usual, it would be good if Manchester United turned up sooner rather than leaving it so late all the time.