England vs Panama Match Analysis and Player Ratings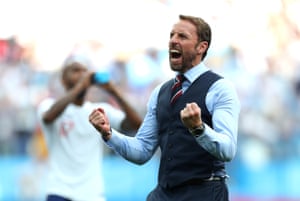 Image from the Guardian
And there it is! England have comfortably qualified for the Round of Sixteen after hammering Panama 6-1 in their second game with captain Kane bagging a hattrick and John Stones heading in a brace as well as a stunning finish from Jesse Lingard. This puts England at the top of Group G on fair play but will aim to get something from their final game against Belgium. England made one change to the squad that edged past Tunisia with Loftus-Cheek coming in for the injured Dele Alli. The rest of the squad lined up as; Pickford, Trippier, Walker, Stones, Maguire, Young, Henderson, Lingard, Loftus-Cheek, Sterling, Kane (c). 
Image from the Guardian
England started brightly and pressured Panama into making mistakes and within the first ten minutes, opened the scoring as Trippier whipped in a ball and within the battle between the Panama defenders shoving and grabbing Kane and Maguire, John Stones found himself completely free and headed past Penedo to the jubilation of the squad and the millions of fans back at home. Panama aimed to equalise quickly after Barcenas got past Young and Maguire with ease and curled a decent shot 25 yards out which just went past the post and had Pickford scrambling across the goal. Not long after, Trippier picks out Jesse Lingard just inside the box who controlled the ball well and was naively fouled by Escobar and the referee gave a penalty to England for which there was a review but the result was the same as Harry Kane took the ball and rifled it into the top corner to score his third World Cup goal. At the half an hour mark, England could have scored from another set piece after Maguire headed the ball just over the bar from Trippier's delivery. Not long after England scored their third and a stunning one at that. Jesse Lingard linked up well with Raheem Sterling and just outside the box, curled a glorious shot past Penedo and scored his second England goal. With five minutes to go of the first half, England scored again! A lovely set piece with Trippier playing it short to Henderson, who clips the ball to the far post towards the skipper who heads the ball across the goalline for Sterling who's header was brilliantly saved but only into the path of John Stones who scored his second goal of the game and the World Cup. The Man City defender has now got more goals in this competition than Neymar, Messi, Higuain and Aguero. Just before the end of the half, England were awarded another penalty after some seriously poor defending from Panama who were grappling with Kane, Maguire and Stones so unsubtly. The skipper took the ball again and hammered it in the same place as the first one as he earns his brace as well. Panama were playing very dirtily with elbows to both Lingard's and Maguire's faces without any repercussions and Southgate might want to make some substitutions to rest the big players for the game against Belgium. 
Panama were more lively at the start of the second half and made a few good chances. Until, Harry Kane the hattrick hero scores his third goal of the game and is now topping the Golden Boot table, past Ronaldo and Lukaku who are both on four goals. The goal came from Loftus-Cheek's shot that deflected on Kane's heel and past the keeper as England hit Panama for six. As soon as he scored he came off along with Lingard as the two deserve a rest and in their place Fabian Delph and Jamie Vardy came on for their World Cup debuts. England looked sluggish after those substitutions and could have conceded after Young was caught out and the right back, Murillo almost dinked the ball past Pickford, but the Evertonian 'keeper stood tall and the ball was cleared. With twenty minutes to go, Young moved to right back and Rose came on for Trippier, who put in one hell of a shift. Henderson could have made it seven with his first England goal as he volleyed the ball with a sensational effort but just went past the post, very unlucky. Substitute, Rose gave away a needless corner and alarm bells for England as the Panama captain, Torres should have scored from a yard out but his feet were in a tangle. England were punished for their sloppy defending as a freekick came in and the veteran substitute Baloy scored from 12 yards out, giving Pickford no chance and the Panama fans celebrated like crazy after their team scored their first ever World Cup goal, beautiful scenes. And that was the last true chance of the game as England qualify and Tunisia and Panama are knocked out and guess what: FOOTBALL'S COMING HOME!!!!
PLAYER RATINGS:
Jordan Pickford (7) – Could do nothing about the goal but played well during thr game and made a good save to deny Murillo.
Kieran Trippier (9) – Another very good performance from Trippier, his deliveries were outstanding and his defending was also impressive. 
Kyle Walker (6.5) – Did not do anything of note but was a little sluggish at times in the second half, he needs to be switched on for the whole game against Belgium.
John Stones (8.5) – A brace and a solid performance from Stones at the heart of the defence. He is turning into a fantastic defender and footballer and Pep should really think about putting him back in the squad because there will be suitors for the defender. 
Harry Maguire (7) – Good in attack but did get caught out at times. Against Mertens or De Bruyne, he could be in trouble and Cahill should come in.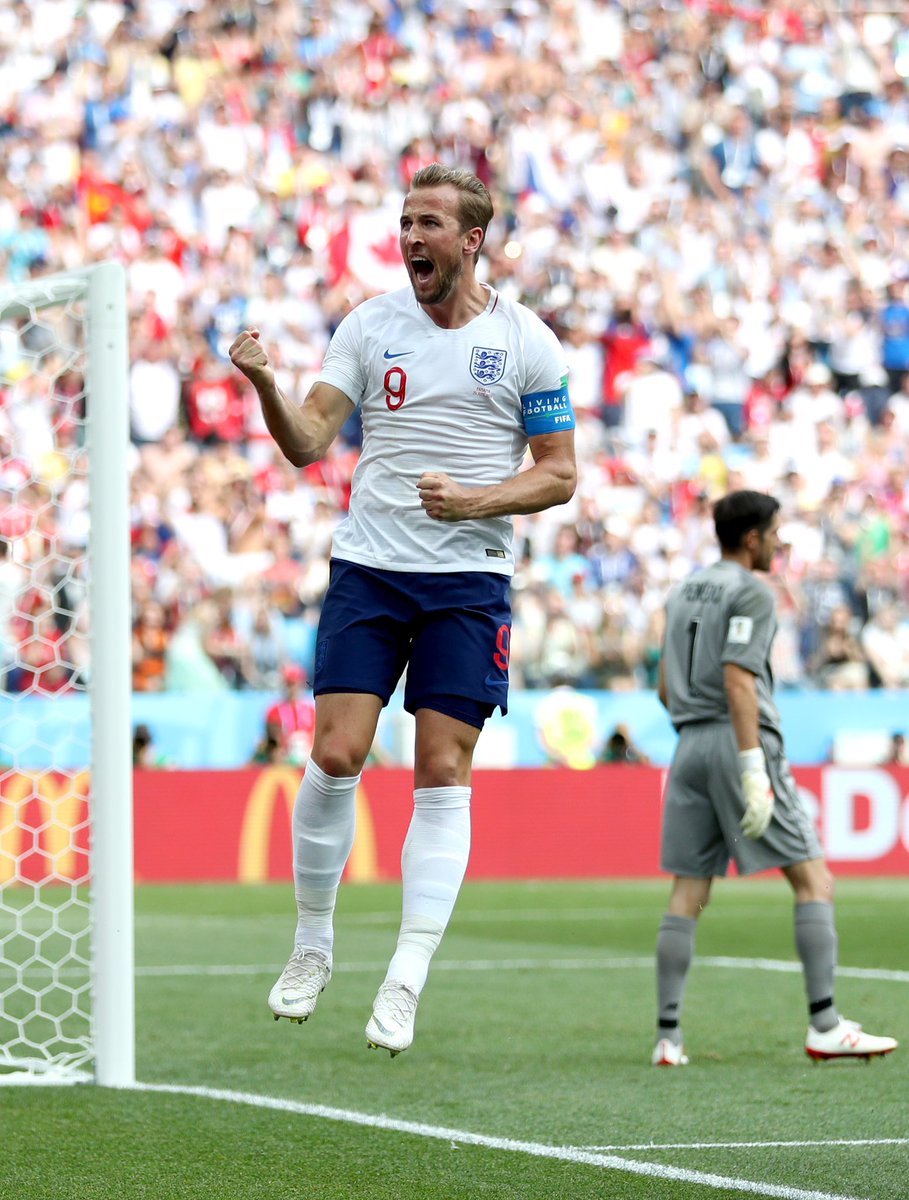 Image from Harry Kane's Twitter 
Ashley Young (6) – Did not affect the game and was relatively absent for the match. Was caught out defensively at times and Rose might want to step up in training to steal his place. 
Jordan Henderson (8) – Unlucky not to score but kept the play going and controlled the first half very well. 
Jesse Lingard (8.5) – Brilliant performance, a high energy effort from Lingard and won the first penalty and got himself a good goal for his efforts. A vital player for Engand at this point. 
Ruben Loftus-Cheek (6.5) – A decent performance but did not really do much for the attacking play. His shot deflected off Kane for the sixth but may be swapped for Dier against Belgium. 
Raheem Sterling (6.5) – Had no true impact in the game and should be replaced for Rashford. His confidence is shot and has never really had a good performance yet at tournament football. 
Harry Kane (8) –  Two beautiful penalties and a lucky third goal but is leading England very well so far and deserved the hattrick. 
SUBS:
Jamie Vardy (n/a) – Barely touched the ball.
Fabian Delph (6) – Decent but not impressive
Danny Rose (5) – Gave Panama chances and not quite there yet.
MAN OF THE MATCH: KIERAN TRIPPIER