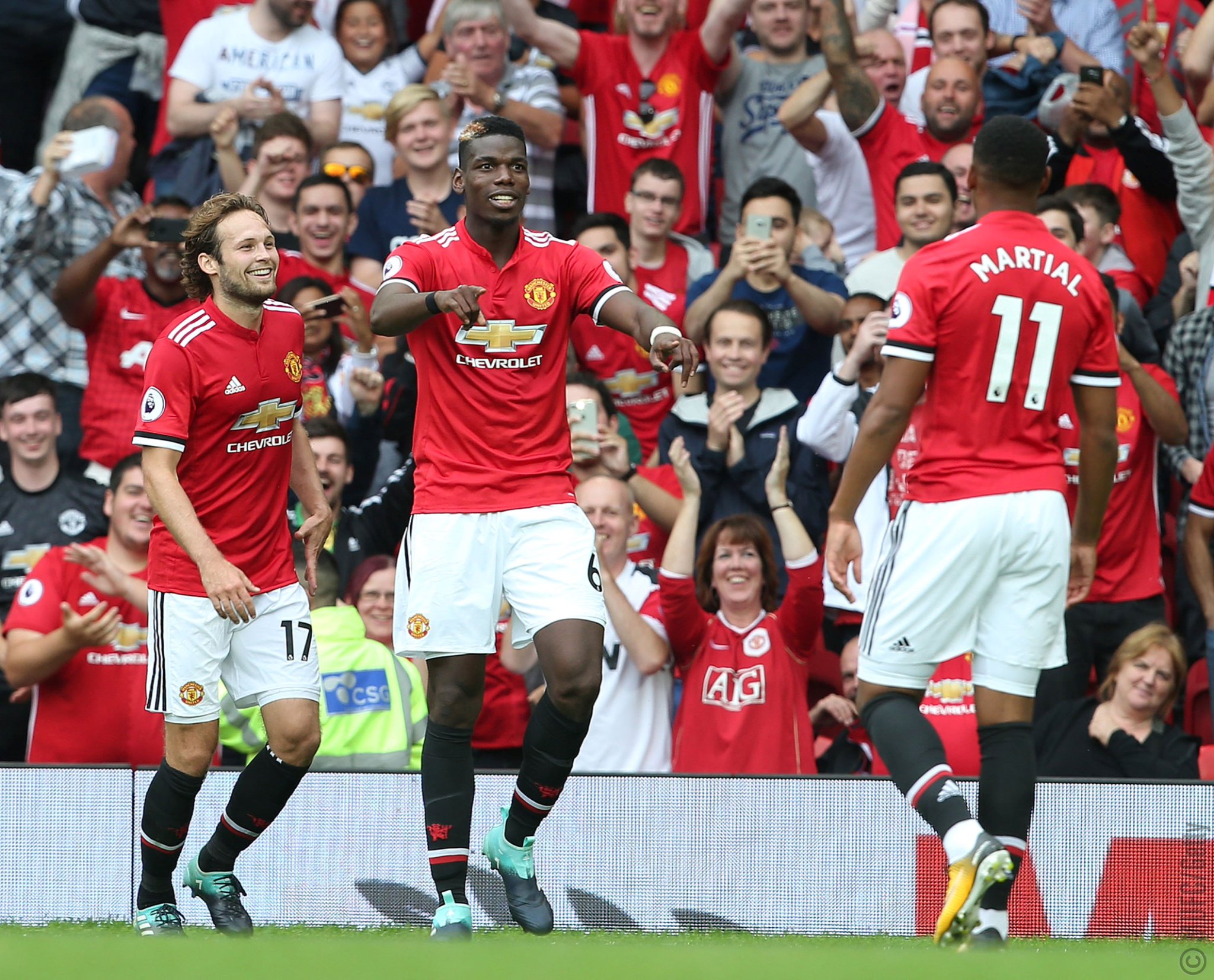 The first game of the season was certainly one to remember for United. An exquisite performance by the Red Devils meant that we finish game-week 1 at the top of the Premier League. Two goals from Lukaku and great finishes from Martial and Pogba were enough to secure three points for us along with a clean sheet.
United started the game with intent and controlled the game from start till end. The first goal came in the form of a lightening quick counter attack started by Marcus Rashford who slipped the ball through to Romelu Lukaku who made no mistake in front of goal. A dream debut for our new centre forward.
If the first goal wasn't enough already, Lukaku managed to make it a brace on his debut for his new club. A delightful ball into the box from a free kick by Mkhitaryan was met by the head of Lukaku to double United's lead.
The third goal came from the talented Anthony Martial within 10 minutes of coming on. Again, it was another delightful assist from our Armenian playmaker. The man who was so influential in his first season looks to be on fire and hoping for a better season than last. Despite a reported bid from Tottenham for the French forward, he looks completely unaffected and ready to show his worth.
The fourth and final goal was scored by the worlds second most expensive player, Paul Pogba. His skilful performance was ended with a great finish past Joe Hart. Hopefully this season he will be able to showcase his true talent without the heavy label on his shoulders of being the worlds most expensive player.
The stand out player today for me was Nemanja Matic. He was all over the pitch. Not only was he solid defensively, he pulled out some outstanding skills which nobody knew he had in his locker. Leaving the West Ham players left for dust, he also had the Stratford End singing his name and the stadium dancing to his magical footwork. At points, from up in the stands we couldn't tell if it was Matic or an unusually tall Messi.
Now onto another standout debutant, the Belgian international made a big impact on the Old Trafford crowd (which I was a part of) with his brilliant performance. Everything, from his work-rate to his finishing was perfect. Nobody knew that Lukaku had that much pace, he was leaving the defenders no chance!
I think it's fair to say that every player that started today deserved to start. They each put in 100% effort and nobody put a foot wrong. One things for certain, Mourinho got the tactics perfect today.
Let's hope he gets it right again next week and the players play just as well when we face Swansea away! Oh it feels good to have the Premier League back! 🔴❤️